After dramatic semi-finals before a capacity 2,500 crowd surrounding the all-glass showcourt at Oxenford Studios in Gold Coast, Australia, it will be England and New Zealand going for Squash singles gold at the 2018 Commonwealth Games on Monday.
England's event debutante Sarah-Jane Perry was the first to claim a place in the women's final after a powerful performance against rising Welsh star Tesni Evans. Perry, the fourth seed ranked eight in the world, hardly put a foot wrong as she dismissed sixth seed Evans – the surprise conqueror of event favourite Laura Massaro – 11-6, 11-3, 11-8 to extend her unbeaten record over the 25-year-old from Rhyl
"I'm really, really, pleased with how I played there," exclaimed the beaming 27-year-old Perry, from Kenilworth (pictured below in Games action). "My game plan was to stop her playing her game, but to play my game. Tesni is so good around the middle – if you let her get on the volley she's really dangerous.
"I tried to keep her in the back corners and that made me let myself express my squash. I'm really pleased with that performance and can't wait to play the final tomorrow. If I can reproduce this performance I'll be really happy.
"It's true I haven't lost to her, but she's been right on the verge of beating me. She beat Laura for the third time in a row yesterday and that's no mean feat – I've never achieved that! She's definitely becoming a real force to be reckoned with."
When asked how she felt about her success in her first time in the Games, Perry said: "Yes, you can't really ask for any more than that, can you? Hopefully I'll be nice and fresh going into the final tomorrow – and if I could win the gold medal that would be an absolute dream come true. Even just being in the final is a dream come true!"
After the jubilation of earning a surprise place in the semis, Evans was understandably downhearted at losing: "I'm very disappointed – it's one of those matches when I just couldn't get into it and she played really well. To be honest I don't think she did anything wrong! All credit has to go to SJ today – she was fantastic and there was nothing I could really do.
"Normally you lose in a tournament and you're out – it's going to be tough, but at least I can now prepare myself for potentially an even bigger match tomorrow."
Perry will go for gold against Kiwi opponent Joelle King, the No.2 seed (pictured below) who, as world No.4, is the highest-ranked player in the event.
A bronze medallist in the 2014 Singles, and a gold and silver medallist in the 2010 Doubles in Delhi, King is no stranger to the Commonwealth Games experience. The 29-year-old faced 'veteran' Games star Nicol David – the illustrious former world number one who has played in every Games since 1998 and won gold in 2010 and 2014, and boasted a 13-1 head-to-record over her opponent going into the match.
But the Malaysian's formidable eight-year unbeaten Games run came to an end when King triumphed 13-11, 11-5, 1-11, 11-5 in 43 minutes.
"Any time you beat Nicol it's pretty special," said King. "She just doesn't give up, she's one of the toughest players you'll ever play on Tour. She never gives up – right to the end.
"I felt like I played some really good squash out there, I felt like she didn't give anything away – I had to beat her.
"Singles is what we do day in day out and I'm just chuffed to be in the final. But it's just the final – it's a big thing, but you've still got to turn up tomorrow, you can't just rest on your laurels. You can't just rest on what happened today – you've got to just enjoy it for the moment, move on, and come back tomorrow.
"This is basically like a home game for us – it's only three hours across the ditch. There's so much support here for us it's amazing. It's nice to be playing in such an atmosphere."
David was surprisingly upbeat after her defeat: "It was very close in that first game – I think it was really the decider, that first game, and if I could have won that it could have been a bit of a different story.
"Joelle's been very consistent and to come back from 2/0 down against Joelle was going to be a bit of a tough feat. I pushed hard but in the fourth game, once I let a few things go, it gave her confidence to step forward.
"I gave it my best but sometimes your best is not enough."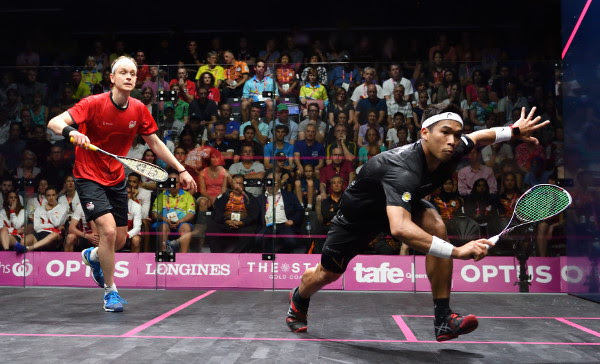 England's seasoned campaigner James Willstrop became only the second player in Games' history to reach a third final – following the achievement of his fellow countryman Peter Nicol in 2006 – when he beat Nafiizwan Adnan, the No.12 seed from Malaysia, in the first men's semi (both pictured above).
It was in the previous round that Adnan brought a notable era to an end when he removed England's Nick Matthew, the gold medallist in 2010 and 2014. Fourth seed Willstrop played a sure-footed and disciplined game to see off the UK-based Malaysian 11-6, 12-10, 11-4 in 49 minutes.
"I didn't know what to expect really," explained the former world number one and twice a silver medallist. "I was just trying to work on each phase, the first few rallies, the first few points – then see how it feels when you get the first game up. It's just the performance really.
"What an occasion to have ahead of you – I'm so, so thrilled, I love playing big occasions."
When told that only Peter Nicol has reached the final three times before, Willstrop replied "Oh really? That's great – I've got one, I've got a record! I'll take that. The longevity thing is so pleasing.
"I owe so much to (my physio) Alison Rose in Leeds – she's been an absolute wonder-woman to me all my life. She's kept me strong. I've had surgery and she's kept me going through it.
"And obviously I've had physio support from Jade (of Team England) here all the time. It's thanks to people like Alison that I can keep playing squash at 34 – and likewise Nick has had all his team to help him keep playing squash at 37. That wasn't happening 10 years ago and that's testament to the support we get."
The final match of the day was a long-drawn-out affair which – despite the lack of local interest – had the capacity crowd on the edge of their seats. New Zealand's No.2 seed Paul Coll, the current world No.9 who has enjoyed a meteoric rise through the international squash ranks over the past two years, faced surprise opponent Joel Makin, a Welshman ranked 43 in the world.
It took 106 minutes to produce a winner – with underdog Makin one point away from a match-ball in the third game before Coll ground his way to a 6-11, 9-11, 11-9, 11-2, 11-8 victory which sees the 25-year-old into the final for the first time.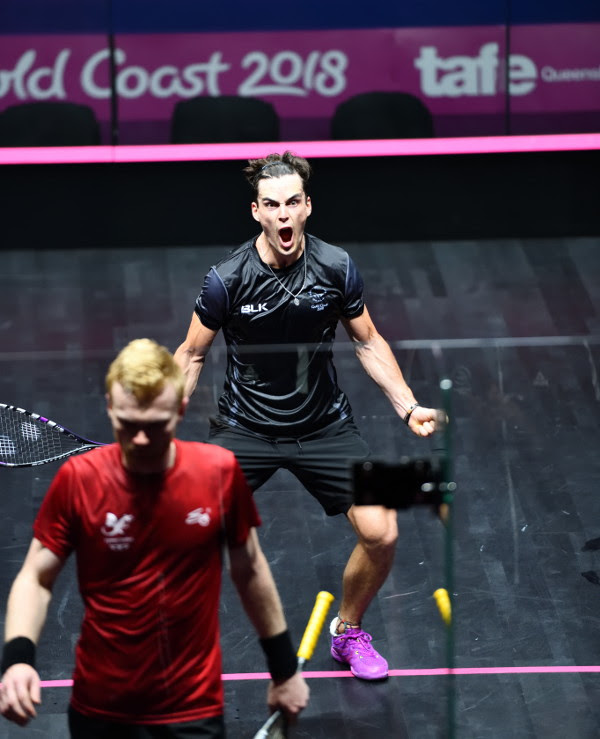 "I knew he was going to come out strong," Coll (pictured above on celebrating his victory) told the waiting media afterwards. "I wanted to make it tough for him at the start but I think I was guilty of going a bit passive – which I've been trying not to do. So that was a bit disappointing.
"I came out in the last three and tried to be a bit more aggressive and I think that took its toll on him in the end. But he's a class player.
"It's a dream come true for me to be in the final. If you'd told me I'd be here four years ago I would have told you to go away, I wouldn't have believed you.
"To be playing for gold tomorrow is one of the biggest dreams I could ever have.
"I've played James a few times – he's obviously a very experienced and class player.
"I'm going to go out there and give it my all – and hopefully do my country proud."