Howard Harding reports
While the two reigning gold medallists eased into the third round of the Squash singles events at the 2018 Commonwealth Games in Gold Coast, Australia, the opening day of action belonged to Jamaica after the Caribbean country's only two male players caused major upsets to reach the last 16.
UK-born Lewis Walters, ranked 260 in the world, raised his country's spirits in the first round when he beat Peter Creed, the 15th seed from Wales ranked over 200 places higher, 7-11, 11-7, 11-6, 11-9 in 48 minutes.
Just a few hours later, the 30-year-old Games debutant continued his unscheduled run by seeing off Malta's Daniel Zammit-Lewis 11-7, 11-9, 11-4 to claim his slot in the last 16 round.
Walters was then able to join his team-mates watching the epic second round battle between his Doubles partner Christopher Binnie and India's bronze-medal hope Saurav Ghosal. The No.3 seed from Kolkata, who this month celebrated a career-high world No.13 ranking, took the opening two games and looked to be coasting to his anticipated place in the next round.
But world No.65 Binnie, who had already played a 1st round match in the afternoon session, kept his focus and drew level. In a topsy-turvy decider, favourite Ghosal moved forward to match-ball at 10-8. But, undaunted – and cheered on by a significant weight of Jamaican support from the crowd – Binnie battled through to claim his shock 5-11, 7-11, 11-8, 11-9, 12-10 triumph in 74 minutes.
"I felt pretty confident going into the match and even though I went down two love I kept on pushing," said a delighted Binnie afterwards. "We had all the Jamaican contingent here tonight – a big crowd tonight and that was great."
On the decider, the eight-time Caribbean champion explained: "I was just trying to play one point at a time and keep calm. I think I controlled my emotions pretty well. He made a couple of errors at eight-all and put a couple of balls in the middle where thankfully I didn't hit the tin. He had a couple of match balls and I was lucky to pounce on a couple of good ones at the end. I'm just happy to get through
"It's the biggest day of my career for sure – even though it's a short career so far – but it's only the second round so I have to put some perspective on it. But I have to enjoy this – he's top 20 in the world and it's the first top 20 win I've ever had. But I've been working really hard and hopefully tomorrow I can be close to this again to try and put in another good performance."
Jamaican team manager Karen Anderson (pictured above with Binnie), who competed in the 2002 and 2006 Games, said: "We're very excited. He's working really, really hard and he's been on the edge so many times. I think it will do the world of good for his confidence.
"Lewis beat the No.15 seed this morning – and it was a tough battle. But he held his focus and came back today and won again and so we have two Jamaicans in the last 16!
"We're so happy – this means a lot for squash and we hope it can catapult the game in Jamaica."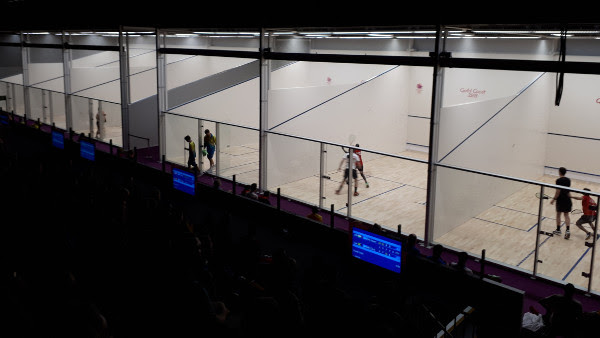 (Pictured above, the six side courts on which the two Jamaica R2 matches took place)
On his surprise run, Walters agreed: "It's probably one of the best days of my life – it's got to be up there, for sure!
"To win this morning, in terms of beating Peter, it's probably one of my best wins, rankings-wise, ever, to be honest. And to do it in this event makes me really happy.
"Going into the event, Chris and I were talking about it and saying that for one us to get to the second day would be really special – but two of us, that's really cool!"
Defending champions Nick Matthew and Nicol David both reached the third round without incident. Englishman Matthew, the men's gold medallist both in 2010 and 2014, began his 2018 campaign by despatching Ugandan Ian Rukunya 11-2, 11-6, 11-2. The 37-year-old favourite, who plans to retire at the end of this season, will now face Indian Vikram Malhotra, the 16th seed, for a place in the quarter-finals.
David is also going for a third successive gold medal. The only player competing in the singles event for the sixth successive time, David overwhelmed Maltese left-hander Colette Sultana 11-1, 11-4, 11-2 in 23 minutes.
"It was a good match – it's always good to see new countries coming to the Commonwealth Games," said the third seed.
"The set up here is amazing – you can see that the Games has always improved every single time, the venue is amazing and we've been looked after really well.
"I'll be playing Samantha Cornett – it'll be a good match and I'll definitely have to be sharp from the word go.
"It all started for me in 1998 where the opportunity was there for me to participate in this event. We had so much support from the Malaysian government to take squash to the next level and I was lucky enough to keep getting that support from Malaysia up to now. So these Games are really important to Malaysia, for myself – but most importantly for squash being in a multi-sport games like this where the medals are held in the highest regard. So everyone's going for it!
"The Commonwealth Games was the highlight for me this year so I came to Australia twice to prepare – first earlier in February, then just before coming here I was in Brisbane for three and a half weeks with Liz Irving and training with some of the local players – and it was really good to get some time on the glass court here."
Cornett was the first woman to claim her place in the third round after beating Mary Fung-A-Fat, from Guyana, 11-5, 11-2, 11-4 in 18 minutes.
"It feels very good to be the first player through to the last 16," said the 27-year-old tenth seed from Toronto, one of only two Canadians competing in the 2018 Games.
"I know that our guys, and the other women, would love to be here too – but they didn't qualify. We had to qualify, so Squash Canada sent us to the World Doubles to try and get us in the top five, which was Commonwealth Canada's criteria. Nikki (Todd) and I finished in fifth place so we are here.
"This is the biggest event I've been a part of – it's pretty tough going. It's huge and I'm delighted to be part of it."
On the prospect of playing Nicol, Cornett added: "I really respect her – on court and off – and I know it's going to be a fun match."
One of the event's biggest prospects is Tesni Evans, the sixth seed from Wales who has enjoyed some major scalps in recent months. The world No.12 from Rhyl beat Guyana's Taylor Fernandes 11-5, 11-7, 11-3 to earn her place in the last 16 round.
On the possible pressure she faces, 25-year-old Evans said: It's a good thing, I think! Obviously compared to four years ago there's a lot more pressure and a little bit more expectation – but I still think there are a lot of other people with a lot of pressure on them as well.
"The field is so strong that anyone could almost do it – and because it's the Commonwealth Games, everyone's going to give probably 10 or 15 percent more than they would do in another match if they can. So I don't think of it as pressure, but another opportunity!"
In the longest – and, arguably, most popular – win of the day, Aussie Rex Hedrick upset the form book by overcoming Malaysia's 13th seed Eain Yow Ng in five dramatic games.
At 2/1 down, the unseeded 29-year-old came back to draw level, then saved two match-balls in the decider to beat Ng 13-11, 6-11, 8-11, 11-9, 12-10 in 93 minutes – to rapturous applause from the partisan showcourt (see above) crowd.
Ng looked in control at 10-8 up in the fifth, but after an endless rally fell to the ground with apparent cramp in his right leg. Clearly in significant pain and barely able to bend the leg, Ng was unable to respond to the home hero's remaining attack as Hedrick stormed to victory.
Hedrick fully capitalised on this first round win to beat Guyana's Sunil Seth in the next round to earn himself a third round berth.
"It was probably the hardest first round match in the draw," conceded the Aussie. "He's a really good player – I've got a lot of respect for him.
"This is the best crowd I've ever played in front of, by far – and the best atmosphere – I've never played in front of an atmosphere like that, it was unbelievable."
On the Commonwealth Games experience, Hedrick admitted: "This is the biggest one – we all try and peak for this tournament and get in the best physical shape."